Since the first lock down in March 2020, Wiltshire Mind has been providing Counselling for adults and young people and also running Peer Support Groups to those in need of mental health support. We have seen a big increase in demand in recent weeks, and we have been able to offer online counselling and support groups to people across Wiltshire. Last year, we were able to offer over 1150 counselling sessions.
Like many charities, we are seeing a decrease in our income though. We offer low-cost services, ensuring they are available to anyone. But this also means our current level of income is not covering our costs.
To provide mental health support to our communities across Wiltshire through 2021, we need to raise £465 a day. We do not currently receive any commissioned or statutory funding, so we rely on the generous donations of our supporters and local fundraising activity, which has been hit hard by the pandemic and the social restrictions.
1 in 4 of us will experience a mental health problem in our lifetime. We make a difference by offering hope through mental health support to our community. The Coronovirus pandemic is having a huge impact on our mental health. Help us be there for everyone in Wiltshire who needs us at this time.
If you can help in any way, please support us and donate today.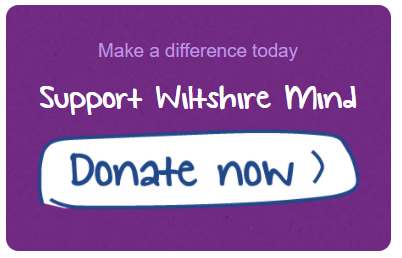 To find our more about Wiltshire Mind, visit our website.