Mental Health Awareness | Mental Health First Aid
Our Mental Health training courses in Wiltshire are designed for people who are looking for more knowledge and understanding of mental health. We provide both half-day awareness courses, along with more detailed  courses in Mental Health First Aid. Courses are available with a focus either on adult mental health, or youth mental health.
Our partners kindly deliver courses for us at a discounted rate so that we can offer them to people in our community at a lower cost than market rate, whilst also raising much needed funds to deliver our mental health support services, such as counselling and peer support groups.
Open Courses
We run open courses in Mental Health First Aid, which can be booked by individuals. Working in partnership with My White Dog, instructor members of MHFA England, these courses provide an in-depth understanding of mental health and the factors that can affect wellbeing, and practical skills to spot the triggers and signs of mental health problems.
The course is delivered online over two full days, with individual learning activities and four live instructor-led sessions via MHFA England's online learning hub.
Please contact us to register your interest and check availability for attending an open course. Email us at training@wiltshiremind.co.uk or contact us on 01225 706532.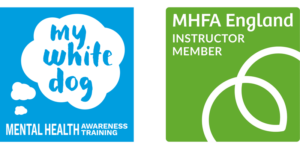 Group Courses
We can also arrange group bookings for organisations. Please contact us to discuss your requirements and timescales. We can offer Mental Health First Aid and Champion courses delivered by our partner trainers, as well as half day CPD accredited Mental Health Awareness courses delivered by experienced Wiltshire Mind trainers.
Our Mental Health Awareness training can be delivered at your premises, by experienced members of the Wiltshire Mind team.  The training raises awareness of mental health and how it can vary, highlights stigma and discrimination and how to tackle them, provides tips on how to have supportive conversations about mental health, and signposts sources of support and information. Sessions can be tailored to your organisation's needs.
Providing mental health awareness training at all levels across your organisation can help provide a culture of support for anyone experiencing problems with their mental health. Where relevant, you can book a separate group course for your managers and facilitate important discussions about how to support employees at your organisation.

contact us on 01225 706532. 
For further details on our Mental Health Awareness Training, please take a look/download at our brochure below.
For further details about all of our courses, please take a look/download at our brochure: Wiltshire Mind Mental Health Training Brochure
For more information or to book a course, email training@wiltshiremind.co.uk or