Help in a crisis
If you or someone you know might imminently attempt suicide, or has already seriously harmed themselves, contact 999 or go to the nearest Accident & Emergency department. Mental health emergencies are serious, you are not wasting anyone's time.
If you need urgent support for your mental health but it is not life-threatening, contact the NHS on 111 who can tell you how best to get support in your area.
Support contacts
If you are struggling with your mental health, it's really important to reach out for support. Here are some organisations who can provide free support at any time, day or night.
Side by Side
This is a supportive online community where you can feel at home talking about your mental health and connect with others who understand what you are going through. It is a safe place to share experiences and listen to others. The community is available to all, 24/7.
https://www.mind.org.uk/information-support/side-by-side-our-online-community/
Shout
Text 'SHOUT' to 85258 and a trained volunteer will get back to you. You can talk about a range of issues including anxiety, depression, suicidal thoughts, relationship problems, bullying or if you're feeling overwhelmed. It's free to text from all major UK mobile networks and your messages are confidential and anonymous.
Samaritans
To talk about anything that is upsetting you, you can contact Samaritans 24 hours a day, 365 days a year. You can call 116 123 (free from any phone), email jo@samaritans.org
Papyrus HOPELINEUK
HOPELINEUK is for children and young people under the age of 35 who are experiencing thoughts of suicide, or for anyone concerned that a young person could be thinking about suicide. You can call them on 0800 068 4141, text on 07860 039967 or email pat@papyrus-uk.org. They are open from 9am until midnight every day of the year.
Wellbeing
We can all take positive steps to take care of ourselves and help improve our overall wellbeing. Even when we are feeling in good mental health, it's important to practice self-care. You can think about it a bit like a bank account where it's better to top up your savings regularly rather spending more than we have and ending up in debt.
Using the five ways to wellbeing is a good way to keep that self-care bank account topped up. Aiming to take actions each week from these five headings can help bring balance to our lives. Why not share ideas with a friend or family member?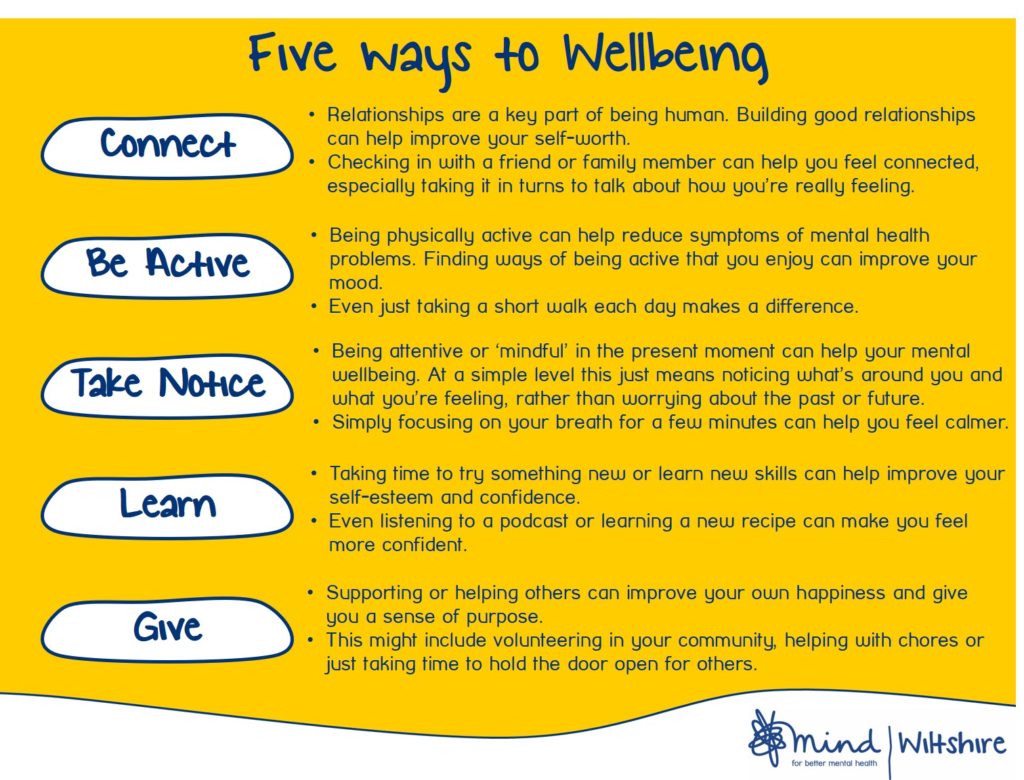 Taking care of yourself during COVID-19
This has been a tough year for most of us. The on-going uncertainty around the pandemic has had a big impact on our wellbeing. For people who were already experiencing mental health problems, this may have made things feel even more challenging.
Even if you are feeling overwhelmed by the situation, it is important to find time to take care of yourself.
Take a look at our ten tips for taking care in lockdown.
The video below shows how to spot the signs of a mental illness.
In the mean-time, please visit Mind's information and support pages for further help.