We provide one-to-one counselling support for adults who are suffering with stress, anxiety, depression, low self-esteem, low mood or emotional distress. We listen in a non judgemental way, providing a safe and confidential place to talk.
By helping you explore your emotions and feelings, counselling enables you to understand your own, and other peoples' behaviour. Our counsellors help you with coping skills to deal with life events, stresses and daily challenges.
Each session provides an opportunity to talk confidentially on a one to one basis. Our Counsellors work and are supervised in accordance with the British Association for Counselling and Psychotherapy Code of Ethics & Standards.
Our one-to-one counselling services are currently offered via Zoom or face to face (in person, held at our premises in Trowbridge).
Our adult counselling is accessible to anyone in Wiltshire, and our counselling team will discuss your needs with you, and arrange for an initial assessment. We don't charge for your assessment.
We charge £30 per session for our adult counselling. This contribution goes towards running adult counselling sessions. Our charity pays the remainder of the cost.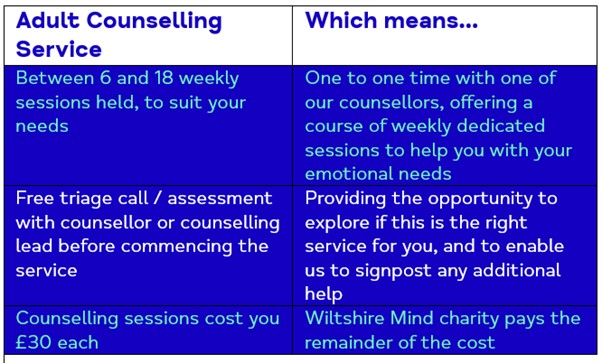 Are you on low income or worried about the cost?
If you are on low income or worried about the cost, please discuss this with us when we talk about your needs. We can provide a lower cost counselling service.
To find out more, or to register for counselling, please email: counselling@wiltshiremind.co.uk
We are very grateful to our grant funders in 2023, who continue to support our counselling service.
Terms and conditions