About us
Wiltshire Mind – Legal Status
Registered Office:
Part 1st Floor/2nd Floor, 21-23 High Street, Melksham SN126JY
Contact:
Telephone: 01225 706532
Email: office@wiltshiremind.co.uk
Company No: 5498430
Charity No: 1113751
Wiltshire Mind – Governance
Trustees:
Cora Gallagher (chair), Geoffrey Brown, Brian Stables, Stephen Hicks, Paul Mills.
Chief Executive:
Carolyn Beale
Wiltshire Mind – Structure
Wiltshire mind is proud of its staff that make a real difference to the lives of residents living in Wiltshire. We have 6 centre managers, a counselling manager, an office manager and fundraising executive.
In addition we rely on the support of our volunteers who are truly appreciated for their dedication to Wiltshire Mind and the individuals they work with.
If you wish to become a member of Wiltshire Mind, please make contact.
Vision
Wiltshire Mind's vision is of a society that promotes and protects good mental health for all and that treats people with experience of mental distress fairly, positively and with respect.
Our Mission
Many people suffer the anguish, isolation and stigma of mental illness, whether they have a diagnosed mental health problem, or have not but are looking for help and support. We're here to provide friendly, safe places where anyone at risk of or experiencing mental health issues can find the support and respect they need and deserve.
Our Values
At Wiltshire Mind we share the values of national Mind.  We are:
Open. We respect individual experience and include everyone who needs us.
Together. We are committed to working with our partners, members and stakeholders.
People who are experiencing mental distress drive all we do.
Our independence ensures our integrity and confidentiality.
We will challenge discrimination and campaign for better mental health.
Our Aims
To achieve our mission we aim to:
Enhance mental wellbeing by developing resilience and by influencing public health policy to reduce environmental risk factors for poor mental health.
Enable social participation by reducing stigma and enabling people with mental health problems to play a full part in society through employment and training.
Empower people experiencing mental health problems by providing access to information & advice, peer support networks and personalised services.
Improve services, support and awareness by working with partners and campaigning for the statutory sector to commission and deliver excellent mental health services.
Improve the effectiveness of our work by building a professional, efficient and financially sustainable organisation.
Strategic Goals
To increase clients/service provision/service effectiveness
Raise the profile of Wiltshire Mind
Help to overcome the stigma associated with Mental Health issues/influence
Achieve sustainable funding base/sustainability for Wiltshire Mind
Wiltshire Mind Organisation Chart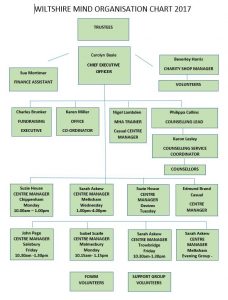 The Local Picture
It is estimated that in Wiltshire around 60,000 people are living with common mental disorders, from the Quality Outcome Framework 2012/13 mental health register which includes people with schizophrenia, bipolar and other psychoses there are 3,381 registered in Wiltshire.  In Wiltshire around 6,500 people have two or more common mental disorders.  There are 18,346 (2012/13) registered with GP's in Wiltshire suffering with depression.  These are the ones we are aware of!  It is a frightening statistic that suicide rates in the South West have rose 32% during 2007 -2012.
The demographic of Wiltshire is changing.  There are particular groups which are at particular risk of mental health problems – There are around 47,000 unpaid carers living in Wiltshire under great stress, 494 male inmates at HMP Earlestoke Prison and the Army are rebasing 4,300 service personnel plus their families back to Wiltshire over the next 5 years.  Our population is aging which will increase those suffering from depression, in 2012 there were some 2,500 people aged over 65 suffering with depression.
Wiltshire Mind wants to be part of the solution!